FRANKENSTEIN
Frankenstein tells the story of Victor Frankenstein, a young scientist who creates a sapient creature in an unorthodox scientific experiment.
Shelley started writing the story when she was 18, and the first edition was published anonymously in London on 1 January 1818, when she was 20. Her name first appeared in the second edition, which was published in Paris in 1821.
---
THE FORTUNES OF PERKIN WARBECK
The book takes a Yorkist point of view and proceeds from the conceit that Perkin Warbeck died in childhood and the supposed impostor was indeed Richard of Shrewsbury. Henry VII of England is repeatedly described as a "fiend" who hates Elizabeth of York, his wife and Richard's sister, and the future Henry VIII, mentioned only twice in the novel, is a vile youth who abuses dogs.
---
THE LAST MAN
The Last Man is an apocalyptic, dystopian science fiction novel, first published in 1826. The narrative concerns Europe in the late 21st century, ravaged by a mysterious plague pandemic that rapidly sweeps across the entire globe, ultimately resulting in the near-extinction of humanity. It also includes discussion of the British state as a republic, for which Shelley sat in meetings of the House of Commons to gain insight to the governmental system of the Romantic era. The novel includes many fictive allusions to her husband Percy Bysshe Shelley, who drowned in a shipwreck four years before the book's publication, as well as their close friend Lord Byron, who had died two years previously.
The Last Man was critically savaged and remained largely obscure at the time of its publication. It was not until the 1960s that the novel resurfaced for the public as a work of fiction, not prophecy. The Last Man is one of the first pieces of dystopian fiction published.
---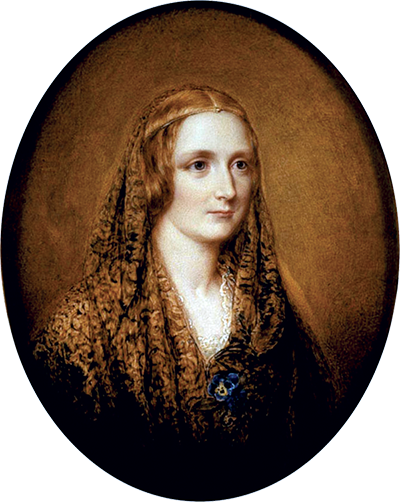 Mary Shelley
English novelist who wrote the Gothic novel Frankenstein, which is considered an early example of science fiction. She also edited and promoted the works of her husband, the Romantic poet and philosopher Percy Bysshe Shelley.
---